December crafts by Lela Moon
I could have gone completely mad with this months crafts but I thought I would make some up that are easy and cheap to do at this festive time of the year.
This month we are making:
Hanging decorations
A paper garland
Felt decorations
Stick star
Nut basket
1. For the
Hanging decoration
you will need:
Coloured paper, this can be anything that catches your eye. I used some off cut wrapping paper.
Cotton thread
Stapler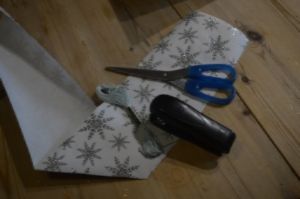 Cut the paper into five strips of about 2cm wide and three different lengths. One of approximately 10cm, two of 13cm and two of 16 cm.
Holding the shortest one and the 10cm strips to either side of the short one, then add the longest ones to the outside.
Join one end together with a staple.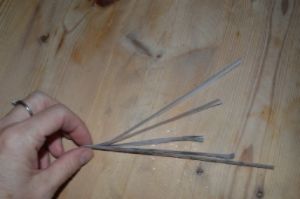 At the other end pop the thread in the middle and staple together and they will make a lantern shape.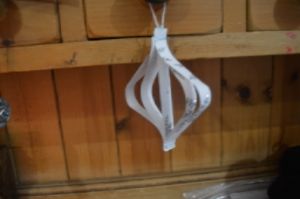 Hang up and enjoy. I am going to make several of different sizes to hang in the window.
2.
A paper garland
You will need:
A large piece of cardboard
PVA glue
String
Sticky tape or glue gun
Coloured paper. This can be old bits of wrapping paper, newspaper, magazines ….anything that you fancy. I used old wrapping paper.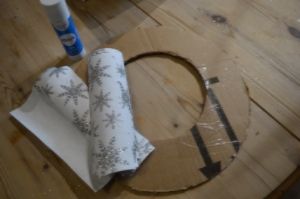 First cut your card into a large circle then cut out a circle in the middle.
Turn it over and stick a length of string or ribbon onto the back using sticky tape or glue gun. This is to hang it up.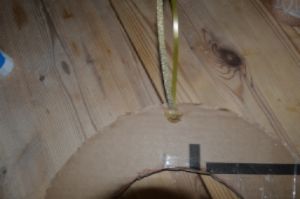 Cut your paper into strips about 6cm wide and 20cm long. Fold over into a loop and stick onto the outside of the circle.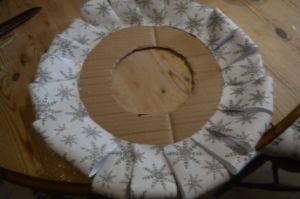 Work your way round the whole circle overlapping a little. Then do the same again and again working your way into the centre.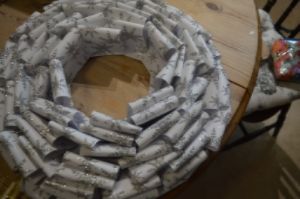 When finished hang up "inside"
I love this idea and it is a great idea to use up all the off cuts of gift paper. I gifted mine.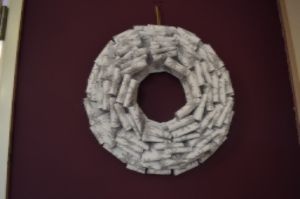 3
. Felt decorations
You will need:
Felt
Needle
Coloured thread
Cloves
Star anise
ribbon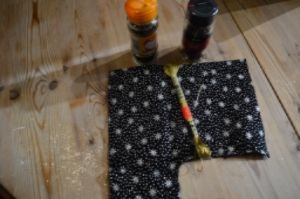 Fold the felt in half and cut out your shape so that you have two pieces.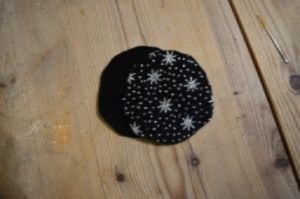 Stitch round the edge so the stitching can be seen but leave a little gap at the top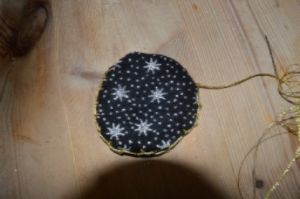 Pop in some cloves and star anise and a little bit of ribbon folded over to hang it up with.
Finish stitching up and pop on the tree. Smells wonderful and takes five minutes.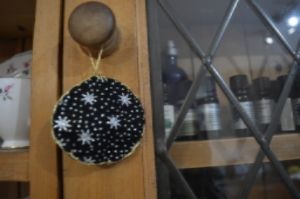 4.
Stick star
You will need:
Five sticks the same length
String, twine or florist wire ( I used wire)
Glitter
Or natural bits and bobs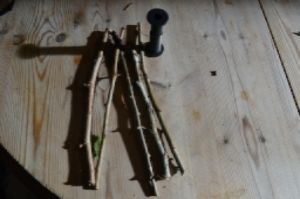 Take two sticks and bind them together at the top using a figure of eight twist.
Open them up a little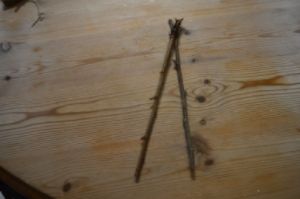 Take one stick and join it to the bottom of the right twig pointing up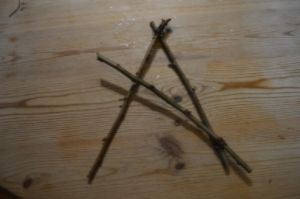 Take another twig and join it to the bottom of the left twig pointing up and put it under the one on the right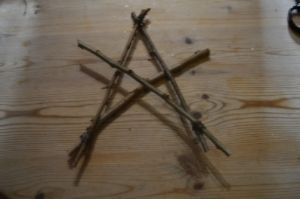 Then take another twig and join it across the top
I then add wire to the areas that cross. you could also use glue.
Decorate with natural things if you wish.
Sounds complicated but it really isn't when you look at the pictures.
You can use this all year and my garden centers sells them for £5.
5.
A nut basket.
Now this can be expensive. I forage for nuts during the nut season for example hazel nuts and walnuts but if not you can buy them in the supermarket.
You will need:
Nuts
Glue gun
A flat wicker tray ( I get mine from charity shops or car boots) you can buy them on Amazon and they are called paper plate holders.
Clear Varnish OR Pva glue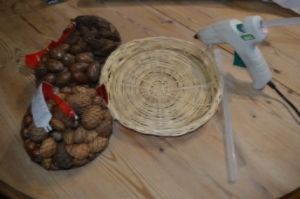 Take your basket and turn it over.
Glue a row of large nuts to the bottom edge. I use large nuts for this, walnuts or Brazil nuts.
Turn it back over and go round the basket adding nuts, building the edge up.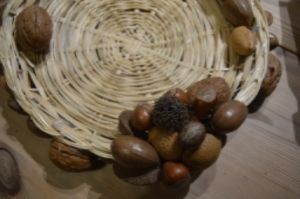 Don't skimp, you can also add in beech nut husks and acorns and small pine cones to bulk it out.
When the whole things is covered and built up varnish the top well and leave to dry on paper.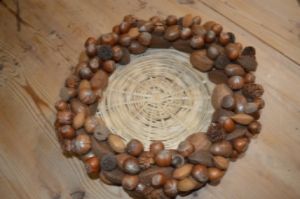 When the top is dry turn it over and stand on a tin or jar and varnish the bottom and leave to dry.
I have been making these for years as presents and they look stunning with oranges in.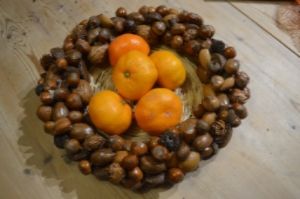 Have a very merry festive time, may your days be filled with love, sparkles and warm fuzzy feelings.